New COVID-19 restrictions in effect
In accordance with the new Ontario-wide COVID restriction as of Saturday Apr 3, 2021, maximum occupancy for the Belleville Masjid is limited to:
40 individuals
This applies to Friday and Taraweeh Prayers.
There will be only ONE Friday prayer for the day.
Masjid is oped to Belleville LOCAL residents only. Travelers and out of town residents kindly requested not to visit the Masjid during this time.
Please continue to follow all other restrictions and SOPs.

Ramadan 2021: Tuesday, April 13 (First day of fasting). Taraweeh starts on Monday, 12th
Eidul Fitr 2021: Thursday May 13
Effective Feb 19, 2021, Beville Masjid will re-open to offer Friday Prayers.
Maximum occupancy will be 50 and all attendees will be required to sign-in upon entrance for contact tracing.
Older news
Eid-Ul-Adha, Friday July 31, 2020

Belleville Masjid is pleased to announce the schedule for Eid-Ul-Adha 2020 prayers.
There will be two prayers, as below:
Friday July 31, 2020 – First Prayer at 7:00 AM
Friday July 31, 2020 – Second Prayer at 9:00 AM

Registration will be required to track attendance for each gathering (see below)

Brothers only, and no children under 12.
Please follow same guidelines as those for the Friday prayer.

Please keep referring to the Masjid web site for updates and follow us on twitter: @bellevillemosq

Eid Mubarik to all!
Registration for Eid Prayer is now CLOSED
Please check your email for confirmation and follow the registered time. If you have any questions, please email us at: masjidbelleville@gmail.com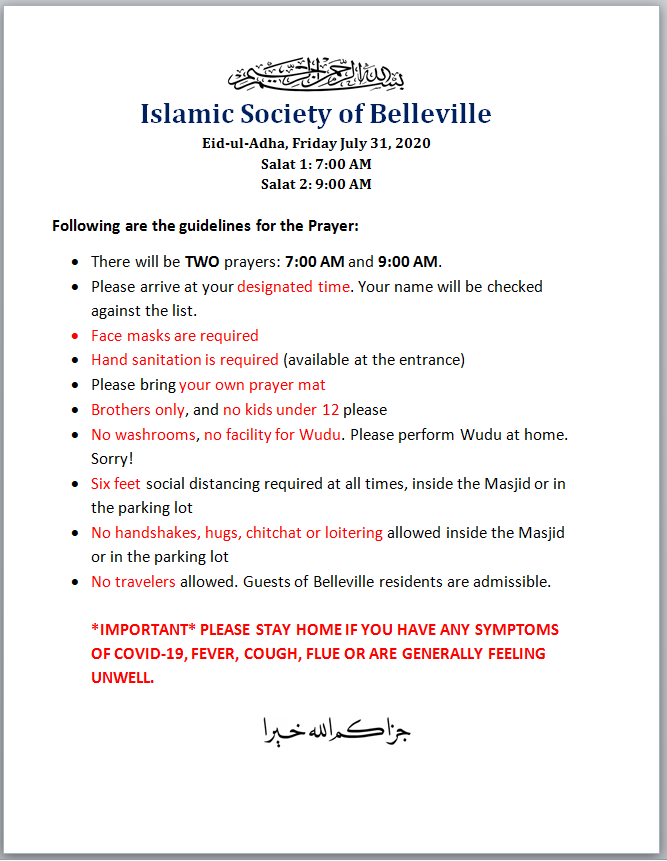 Friday Prayer COVID-19 Precautions and SOPs
COVID-19
In response to the worldwide outbreak of COVID-19 (Novel Corona Virus), Islamic society of Belleville shall remain closed for all public events effective immediately, until further notice. This includes Islamic School.
https://news.ontario.ca/opo/en/2020/03/ontario-extends-emergency-declaration-to-stop-the-spread-of-covid-19.html
We take the safety and and well being of our patrons very seriously. Any violators of these regulations shall be dealt with in accordance to the law.
For further information and official updates on the status of this outbreak, please visit:
https://www.publichealthontario.ca/en/diseases-and-conditions/infectious-diseases/respiratory-diseases/novel-coronavirus
OR
https://hpepublichealth.ca/