Partial Mosque Opening, Friday June 12
In accordance with Ontario govt. guidelines, we shall be partially opening the Masjid starting Friday, June 12, offering congregational prayers under restrictive Standard Operating Procedures (SOP).

At the moment, Belleville Masjid will not be able to host or serve any out-of-town travelers who are stopping-by in the city. Any such travelers, other than the guests of local community members, are advised to refrain from visiting the Belleville Masjid at this time. Thank you for understanding.
Eid Fitr 2020, 1441AH

1st day of Ramadan: Friday, April 24, 2020 (Starting evening of Thursday, Apr 23)
(No Taraweeh prayer or Iftar shall be offered at the Masjid.)
Last day of Ramadan: Saturday, May 23, 2020
Eidul-Fitr: Sunday, May 24, 2020
Eidul-Adha: Friday, July 31, 2020 (The day following the day of 'Arafah')
COVID-19 Response
In response to the worldwide outbreak of COVID-19 (Novel Corona Virus), Islamic society of Belleville shall remain closed for all public events effective immediately, until further notice. This includes Friday prayers, any congregational prayers including Taraweeh, Iftars and Islamic School.
https://news.ontario.ca/opo/en/2020/03/ontario-extends-emergency-declaration-to-stop-the-spread-of-covid-19.html
We take the safety and and well being of our patrons very seriously. Any violators of these regulations shall be dealt with in accordance to the law.
For further information and official updates on the status of this outbreak, please visit:
https://www.publichealthontario.ca/en/diseases-and-conditions/infectious-diseases/respiratory-diseases/novel-coronavirus
OR
https://hpepublichealth.ca/
---
Saturday Nov 7, 2019 – Community Potluck at the Masjid
Time: 5:30PM
Saturday Sept 21, 2019: Ontario Open Door
We bad an open doors session at the Belleville Masjid from 10:00AM to 4:00PM. Members of the local Belleville community visited the Masjid and had an informative tour and learning session at the premises.
https://www.doorsopenontario.on.ca/en/belleville/islamic-society-of-belleville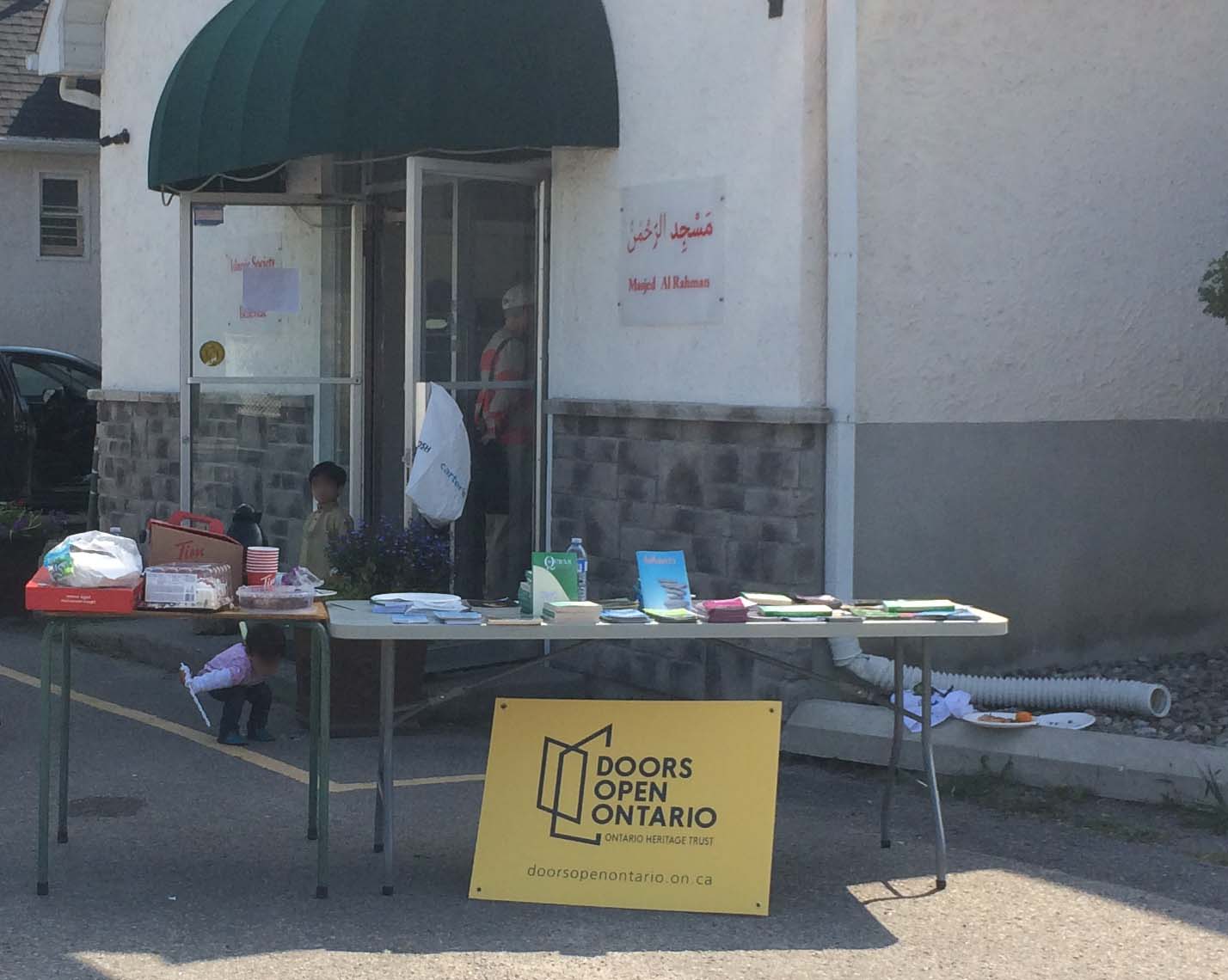 Quinte, Hastings and PE county MPs visit to Belleville Masjid
Islamic Society of Belleville was glad to host our regional parliamentary representatives:
Rep Mike Bossio
Rep Neil Ellis
Following are some pictures from the event:
https://drive.google.com/open?id=1ZfiahmoOamJ7em5dHORgayQvlRiUwHFH
Eid-Ul-Adha 2019 – Sunday Aug 11 – Prayer starts at 8:30 AM
Eid Ul-Fitr Party 2019

Saturday, June 15 at 6:00PM

Eid-ul-Fitr 2019
Eid ul Fitr: Tuesday, June 4, 2019
Eid Prayer Timings:
Salat at 8:00 AM (sharp)
Zikar will start at 7:30AM
Community potluck breakfast will be served shortly after the prayers
Eid Mubarik to everyone

Funds needed for Maintenance
Belleville Masjid is seeking your donations for an imminent repairs and maintenance of Masjid infrastructure. Please seek into your heart and donate generously.
You may pay by Interac (email), PayPal or just cash drop at the donation box at the Masjid. Tax exempt receipts will be provided for all online donations and available for cash donations.
http://bellevillemasjid.ca/donate/
Jazakallah
Ramadan 2019
Ramadan this years starts on Monday, May 6th.
Taraweeh
Taraweeh Salat starts on Sunday May 5, after Isha prayer.
Isha Prayer
Isha prayer: 10:10PM
Family Iftar
Starting this week, the community potluck Iftar will be on Saturday instead of Friday.
Next upcoming Iftars: Saturdays, May 18, May 25 and June 1